We had our little Fiat two-door rental speeding along one of the final straight stretches of road that occurs in the south of the land of fire and ice. Suddenly a black drift of volcanic sand loomed up before us, viciously camouflaged with the bitumen, it was on us before we had realised. With no time to react or take evasive action we mounted and flew over the obstacle. For reasons unbeknownst to us the Nordic gods kept our little vehicle from harm and we rode out the trap unscathed with all but a small fishtail.
In a country where the population of Smallsville America would be close to be beating the entire nations population this was just one of the hazards in trying to circumnavigate the island. Two thirds of the 280,000 inhabitants live in the capital, Reyjavik. The rest are scattered around the 2000km circumference along the national number 1 road - our chosen route, our only route.
We had arrived a week earlier Keflavik International airport, at the seemingly ungodly hour of 11pm. Instead the hour proved to be quite active, with people buzzing about, pulling their bags behind them on those little wheels. We moved through the brand new and starkly lit airport and emerged into the twilight outside. A shuttle bus was grabbed and it deposited us at the pre-arranged hostel. Surprisingly the hostel manager was wide awake even though it was after midnight and after he showed us to our room I pulled the heavy curtains shut, shutting out the twilight and then I shut my own eyes.
Reykjavik is a weird capital city because it doesn't feel like a capital city, it feels like a large town. It is small and provincial. Corrugated iron roofs of sorts of wonderful colour, spread around the city centre. The highest building is perhaps three stories high. The streets are small and narrow without any major traffic. What it felt like was my largest hometown of Newcastle in Australia. Even Newcastle though has higher buildings.
The similarity extended towards the harbour, waterfront and docks. The gritty look around that area. Then the hill with Cathedral on top. Streets radiating out from it, lined with small detached houses. All with those corrugated iron roofs. If the weather had not been so overcast, gloomy and cold, I would could have easily transported myself back to the steel city.
Another aspect which drew my attention and comparison to Newcastle was the spruced up 4WD's that cruised up and down the only main street in town. The young guys behind the wheel were obviously proud of the way the their Jeep was raised up on ridiculously high suspension, and their gleaming chrome bull bars. The comparison was that instead of 4WD the exact same scenario would have been played out along the harbour-side sixteen and half thousand kilometres away except instead of 4WD's, small Japanese two-doors would have been the ones preened.
The prices are astronomically high in Iceland. Just about everything is imported in from elsewhere with little local industry. Ordering a few beers in a bar, even though they are locally made, could also mean starting up a new loan account. A pint in an Irish bar would end up setting you back around 6 pounds sterling. Not an easy place to get drunk in unless you did like we did and stocked up on duty-free vodka.
A trip to the blue lagoon was organised through out hostel. Before visions of Brooke Shields and desert islands appear this blue-lagoon is man made lagoon from the discarded water from a thermal power plant. It is called the blue lagoon because funnily enough it is a blue coloured lagoon, in fact an eerily fluorescent blue. It is that way due to the unusual mix of silica, algae and sea-water. The boffins that be say it is therapeutic for the skin and they actually bottle the stuff. You will also see the bathers scoop up handfuls of the stuff and cake it on themselves. When I decided to try this though my handful of blue goo was woven with distinctly curly hairs from a certain never region.
Which probably explains why they make such a fuss of making sure you are clean before you enter the lagoon. A process is followed of splitting off into male and female change-rooms, getting starkers with your nordic cousins and then having a shower with explicit signs stating in Icelandic to wash your arm pits and pubic area. Well I guess this is what the sign said because it was accompanied by a figure of a man with these regions soapily highlighted.
After a few days of wandering around Reykjavik, seeing the small amount of sights (a cathedral, a museum, the waterfront and the blue lagoon), buying a small amount of gifts (mostly including woolen scarfs) we went and collected out pre-arranged rental. Being budgeters that we were we decided to go for the smallest available and essentially cheapest option. Fiat 1.2l two-door Punto. Would this take us around the whole of Iceland? That was a question we were going to answer.
With the paper work filled in, we hit the road out of town. Which was initially a two lane dual carriage-way but quickly changed into a two lane single carriage-way once we left the suburbs. First stop we headed for was the famous Geysir region. Famous because all the geysers in the world owe their name to this place. Old Stokkur awaited. The 20 metre spouter.
One of the beauties of Iceland we were to find out was an almost complete lack of tourists. The high cost of travel here could have been a reason, but we didn't care, we had paid our big bucks and were pleasantly surprised to be almost tourist free at attractions that elsewhere would have tourist overload. Geysir would have fitted this category. Another flipside is that you can get up and close to attractions that elsewhere would have been off limits. So it is that old Stokkur was metronomically spurting into the air every five minutes and you could have easily, if you wanted, boil yourself by jumping over the little off limits rope. It was as if you had free rein to take in the awesome forces of nature and not be nannied at the same time.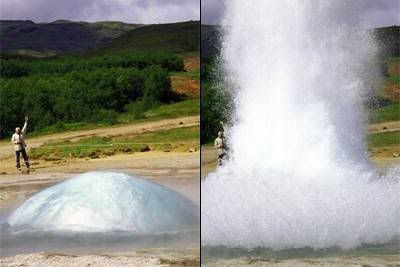 Rapid fire photography. Stukkur in action
The nearby Gullfoss waterfall was the same. Millions of litres of water pounding into a chasm and no rope to hold you back. Þingvellir - with that cool Icelandic character at the beginning of the name which roughly translates to a th sound - in the same region was the same as well. There you can clamber all over the top of where the earth splits in two - the great transatlantic fault - and marvel at the mossy nature of it all. All the attractions were like this. Brilliant.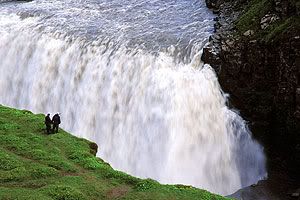 Getting up close to Gulfosss
Our first night with the car was at a scheduled hostel on the north coast. Quite a few hundred kilometres away. We needed to get cracking if we wanted to stay there. So the spurting, pounding and clambering was left behind and the road trip began. Driving through Iceland was an eye opener. The first thing you notice are where are the trees? There are none. It seems somebody had forgotten to plant any when they landscaped this place.
to be continued ...