I was thinking about other great photo exhibitions that I have been to after I wrote about the World Press Photo one and I remembered the few brilliant outdoor exhibitions that have been to around the world.
Earth From Above
The best would have had to have been Yann Arthus-Bertrand's Earth From Above. I was lucky enough to see this twice on my travels - during the same trip in August 2002 - once in Oslo and then again in Stockholm.
If you haven't seen the books and postcards it is a collection of his fantastic photos taken from helicopters from around the world all in large prints. Yann certainly has travelled around - lucky bastard - there are shots from every corner of the globe.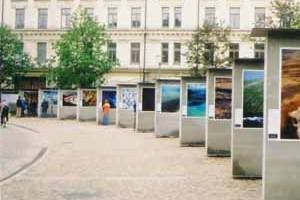 Earth From Above in Stockholm
M.I.L.K.
Saw this twice as well, once in Sydney in Feb 2003 and then again down in Melbourne a month later. It wasn't intentional to see it twice, but like the Earth From Above one, it was just the way it worked out.
I love these photos because they are all beautifully taken by normal people and full of emotion and sensitivity. If someone can tell me web address for MILK it would muchly appreciated.
The Millenium Family
I can't remember exactly the name of this exhibition but it was a collection that heralded the arrival of the new millenium with family portraits from across the globe.
I saw this on Hohenzollern bridge in Cologne, Germany way back in October 2000 as I was travelling through Europe and was transfixed as we crossed the Rhein to go to the Dom (seen in the photo below). The entire length on the long railway bridge was impressively covered.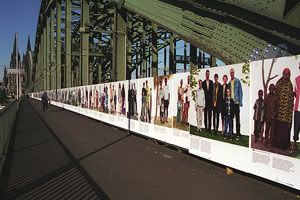 On the Hohenzollern bridge in Cologne
Been to any good outdoor photo exhibitions?